Campus Presence
Landscape plan (beginning construction June), campus path will come right up to the front of the building, including bike racks, benches and a garden on the SE side of the building. Supporting the shading and pedestrian function of the building Clad in glass with a cantilevered canopy that shades the building's windowed walls from the intense, Atlanta sunshine...exposed pipework and concrete columns from the building's original structure. This ambitious example of adaptive reuse is a LEED platinum certified building that offers students access to real-time sustainability performance information via an energy dashboard located in the lobby.
Green Building
The building's entire lighting package is equipped with photo-cells and occupancy sensors. When natural ambient light is highest, photo-cells will ramp down the artificial lighting. When natural daylight is not adequate, the artificial light is ramped up. This technique, combined with interior glazing (light shelves nad high-glass windows) allows light to bounc into the middle of the building.
Programming
The building features flex space which encourages cross-disciplinary collaboration. Reconfigurable classrooms, virtual modeling software and interactive display technology will train students to access and share information with colleagues from many other disciplines. On the top floor, the building offers PhD students and visiting researchers dedicated study and collaborative space overlooking Atlanta's skyline, which was largely designed and built by Georgia Tech grads
The building renovation was made possible through generous gift to the School of Building Construction by Mr. John Caddell (Architecture alum, 1952) and his wife Joyce Caddell.
Completion Date:
Wednesday, April 22, 2015
Image: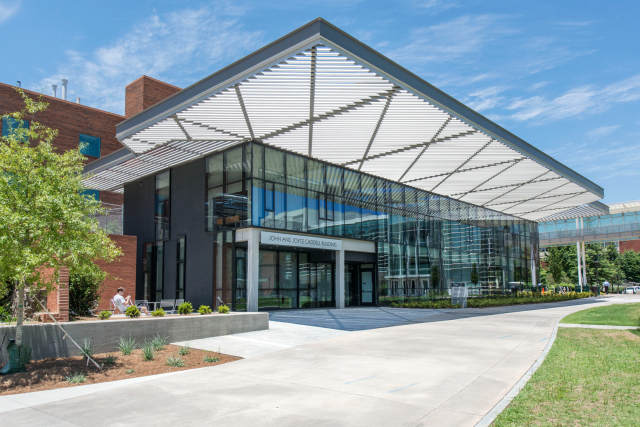 Scope:
The Caddell Building's extensive renovation resulted in sustainable design improvements and strong campus presence for the School of Building Construction. A significant and functional design decision was to install a shading canopy...